Welcome to the June edition of your Mental Health First Aid newsletter. Read on for:
Mental Health Awareness Week round-up
Thank you for all your support for this year's Mental Health Awareness Week. To mark the week in May, we released our new Address Your Stress toolkit: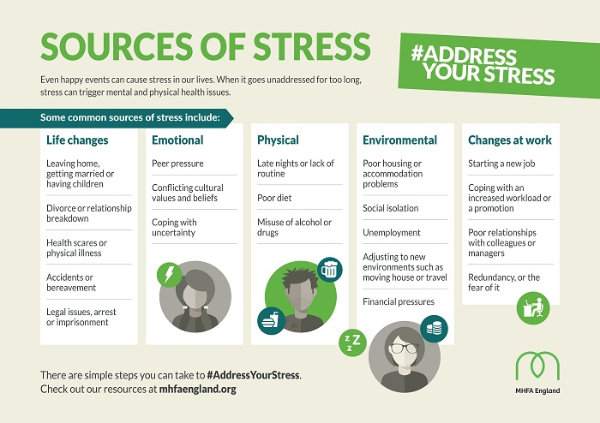 It was fantastic to see so many members of the Mental Health First Aid community using and sharing the toolkit! Take a look at our blog for some examples of the creative ways you addressed your stress, along with commentaries on MHAW from people in the mental health sector. You can find a selection of press coverage from the week on our news page.

Other highlights for the MHFA England team included presenting as part of a panel event for Frazzled Café alongside Ruby Wax, and appearing on London Live to talk about the importance of creating mentally healthy workplaces.

What did you do to Address Your Stress? If you have any feedback on how you used the toolkit in your organisation we'd love to hear from you – please get in touch on media@mhfaengland.org.
New campaign to change workplace mental health law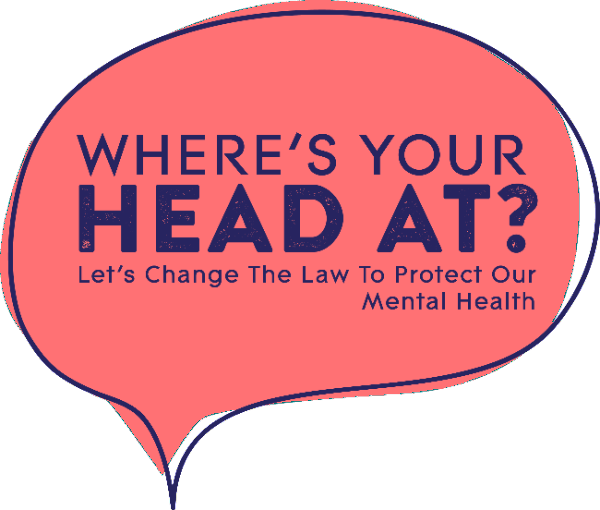 You may have seen the launch of Where's Your Head At? - a six week campaign to change health and safety law so it protects mental health in the same way as physical health.

We've teamed up with Bauer Media and Natasha Devon MBE, mental health campaigner and Youth MHFA instructor, to launch a petition asking the government to change the law. If successful, this could completely change how mental health is approached in the workplace.

The call for a change to the law is backed by MPs and industry leaders from a range of sectors, who recently wrote a letter to The Times to highlight their support. By 24 June we hope to have gathered enough signatories to take the petition to parliament (we are fast approaching 75,000) so please get involved and share the petition as far and wide as possible!

Please visit wheresyourheadat.org for more info.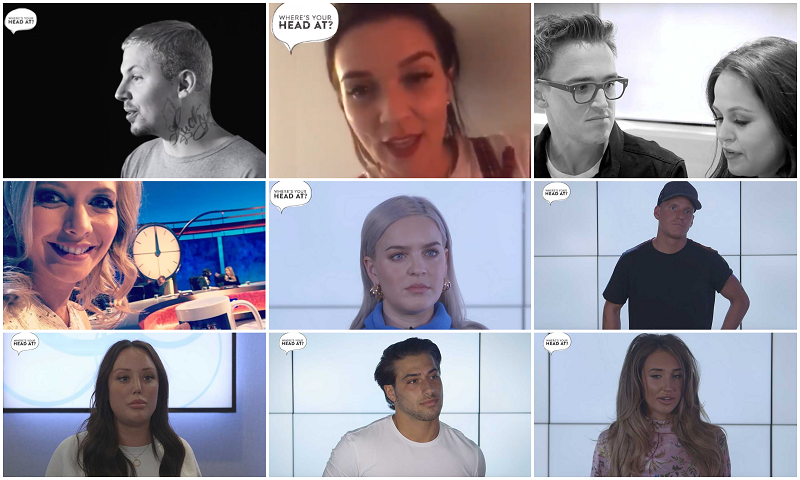 Some of the campaign's celebrity supporters: Professor Green, Candice Brown, Tom and Giovanna Fletcher, Rachel Riley, Anne-Marie, Jamie Laing, Charlotte Crosby, Kem Cetinay, and Megan McKenna.
New MHFA Refresher course
Our brand new Refresher course is currently being piloted. It is designed for anyone who has attended an Adult Two Day or One Day course in the past and would like to refresh their MHFA skills. Stay tuned for more announcements!
New resource for student mental health


On 6th June Student Minds launched Transitions, a go-to source of support and information for students at university or who are starting soon. If you work with or deliver training to university students or staff, you may wish to share this new resource with them.
Protecting your data


We can guarantee your inboxes have felt the full impact of GDPR, so to keep it simple, here's what we've done to protect your data:
MHFA England are GDPR compliant (for more on what that means, visit ico.org.uk)
 
We have asked everyone on our mailing list to reconfirm that they still consent to us contacting them
 
We have contacted our suppliers to ensure that every stage of our supply chain is GDPR compliant
 
We have provided specific guidelines to our instructors, National Trainers and Associates which state how MHFA expects them to work to comply with the legal obligations that the GDPR sets out
 
A data protection training programme and documentation suite has been developed for all MHFA central team staff
 
For MHFA England's Privacy Notice please visit our website
Course certificates
We are sorry for the recent delay in processing course certificates. If you're still waiting for your MHFA certificate after completing your course, please bear with us. We are currently working as fast as we can to process a backlog of certificates and get back within our four week turnaround time as soon as possible.
 
Please be reassured that your certificate will be processed and sent out to you as soon as we can.
Farewell to Poppy Jaman
 

At the end of May we bid our CEO, Poppy Jaman, a fantastic farewell with a leaving celebration. Poppy will continue to support the organisation as an MHFA England Ambassador, and will continue in her role as CEO for the City Mental Health Alliance.

Find out more on our website.
---
Share your story
As awareness of MHFA increases, so is the interest in hearing from people who have been supported by a Mental Health First Aider. If you, or someone you know, has been helped as a result of MHFA skills, please get in touch and we can chat about how this story might be shared. 

You can reach us on media@mhfaengland.org for more information.
---
Have you got news you'd like us to share? Send us an email on media@mhfaengland.org and we'll add yours to the next round up.
11th April: The Telegraph. Our former CEO and now MHFA England Ambassador Poppy Jaman OBE was the featured guest for popular mental health podcast Bryony Gordon's Mad World. She discussed how her experiences of discrimination and poverty spurred her on to become a leader in the mental health community.
 
14th May: Daily Mail Online reported on the results of the UK's largest ever stress survey published by the Mental Health Foundation in partnership with MHFA England.
 
14th May: The Independent published an in-depth look into MHFA as part of the #AddressYourStress campaign for Mental Health Awareness Week. Interviewing Poppy Jaman, the piece provided a fantastic insight into MHFA England's history and mission for the future.
 
14th May: CBI, Business Voice. Workplace Lead Jaan Madan wrote a blog for the Confederation of British Industry (CBI) website during Mental Health Awareness Week. He highlighted the 'Address Your Stress' toolkit as a simple, effective way of helping recover the 12 million working days lost as a result of workplace stress.
 
15th May: The Evening Standard (print) dedicated nearly a full page to workplace stress and referred readers to our 'Address Your Stress' toolkit.
 
15th May: Happiful wrote a feature on MHFA which was published on their website in April's edition of the magazine, and was supported by Facebook livestreams discussing MHFA courses.
 
16th May: Grazia. Mental health campaigner and lead spokesperson for 'Where's Your Head At?', Natasha Devon, wrote a piece for Grazia magazine. The article discussed how the campaign is calling for legislative equality for mental and physical first aid.
 
16th May: Sky News Sunrise. The top broadcast opportunity of Mental Health Awareness Week was Poppy's appearance on Sky News Sunrise. She was interviewed as a spokesperson for the 'Where's Your Head At?' campaign.
 
17th May: Campaign Live: Lucie Cave, Editorial Director of Bauer Media, was a featured guest writer for Campaign Live. She summed up the powerful message behind 'Where's Your Head At?' and highlighted some of the celebrities who have backed the campaign.
 
23rd May: The Times. An MHFA England-led letter to the editor of The Times was published online and in print, drawing attention to the growing petition launched by the 'Where's Your Head At?' campaign. It was signed by a number of MPs, business leaders, and notable mental health campaigners.